Louis has been adopted!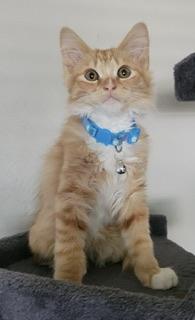 Handsome Louis is the best big brother to his litter mates!
His calm, kind and gentle way with his siblings is fun to watch. Louis also has taught them all the fun stuff that big brothers know too...like how to climb on and off the big cat tree, how to play with his favorite feather toy and of course the sneak attack! Lily his sister gives him two paws up as brother of the year!
Louis is full of energy and sass, and is not shy at all with his human fosters or kids it is unknown how he is around dogs or adult cats.
Orange soft smooth long hair, and a white chest makes him a show stopper when it comes to good looks. Louis is just a cuddly little fluff ball of joy. If you are looking for a sweet little guy to join your home he might be just this guy for you?