Little George's adoption is in progress!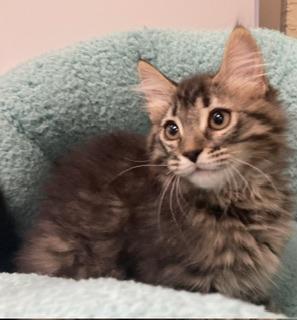 Little George is the most handsome little fellow that is going to a amazingly long haired big boy someday, but today he is a sweet cuddly ball of fluff and love.
He is playful and though he loves to run around and romp with his toys, he also loves to be held and cuddled just as much. You can tell when he is happy easily, because he is a loud purring machine. Little George would love to be in a home where he always has someone to talk to as he is talkative, and loves lots of attention as he does not love to be alone. He has not been exposed to children or dogs as of yet.
Little George will be a fluffy guy and will need a forever family that knows how important a brushing is, and some grooming visits to keep him looking his stunning self. If you are looking for a love bug to join your family this little guy is perfect for you, not to mention how can you resist his cuteness?
Please note:
Little George is shown as a Maine Coon Mix / Tabby / Tabby - Black based solely on his appearance. We rarely take in purebred animals, so virtually all of them are a mix of several breeds. Do not make an adoption decision based only on our breed designation, especially if you are concerned about allergies.