Rambo is available for adoption in an offsite foster home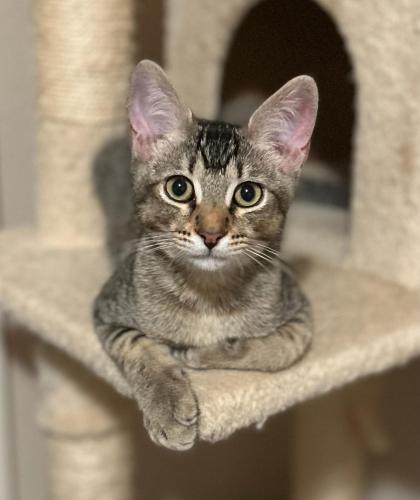 Male
Tabby
Brown
5 months old
This little guy Rambo is a mixture of curious and cautious and loves to check out what is going on around him before all of his siblings.
It gets better though with Rambo..... Once he knows your his human, and have his safety and wellbeing at heart he will lay on your lap on his back.... ready to have his belly rubbed which he loves soooo much and purr away for hours!
Rambo also will talk to you about his day, and ask about yours because when not relaxing for a tummy rub he loves to talk! Keep in mind though this is all once he feels safe, and on his terms. As sweet and loving as he is, he is not a huge fan of being held on your terms, he just likes to be in control of his affection time.
Rambo has no exposure to dogs, cautious around young children. He is good with other cats and kittens.
Rambo is ready for belly rubs and long talks with you, do you have room in your heart for this little guy?