Ria is available for adoption in an offsite foster home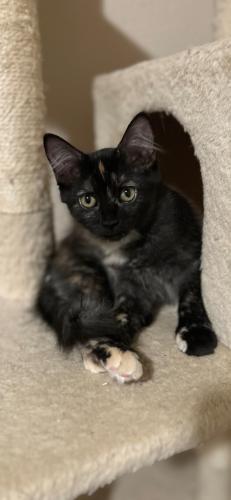 Female
Tortoiseshell
5 months old
Meet Ria, she is a sweet little tortoiseshell that is ready to become your forever girl!
Though Ria is a polite girl she can be a messy eater, and she loves to eat. Her other favorite thing is your attention and being loved on and being petted...she will even reach for your hand when she wants love and affection. Playing with her liter mates is another favorite pass time of hers, and she would love if one of them came with her.
Ria has been around her liter mates at her foster home, but not around dogs as of yet so her reaction is unknown. She has been around children and did great.
Ria is a beautiful sweetheart, is she your forever girl?