Meow-Meow is available for adoption at our Blackstone Ave Petco Adoption Center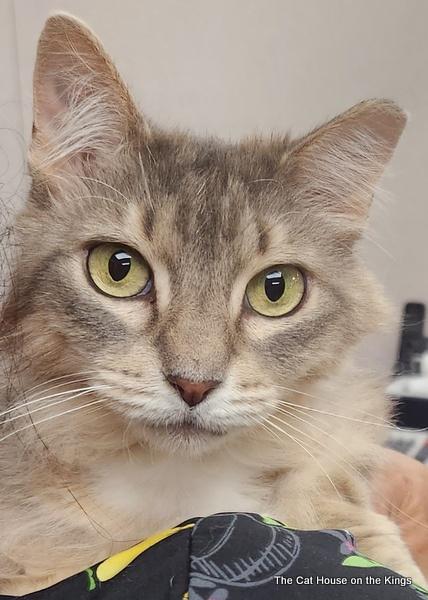 Female
Maine Coon Mix
Gray
8 years old
Meow-Meow is a lovable and sweet girl who just wants a safe home where she can be cherished and enjoyed. She was left behind when her family moved, but a nice neighbor took care of her until she developed a leg injury that needed vet care. That injury was actually a tumor, so the neighbor asked us to help Meow-Meow. She has now had surgery to remove her leg (and she gets around beautifully as a tripod). The vet believes she will live a full life! Why is she named Meow-Meow? Because this sweet kitty is a bit meowy (and very purry!) Would do best in a home without young children because she can become over stimulated and will give love bites. She would do best in a home where she is the only pet so she cant get all the love and attention
Please note:
Meow-Meow is shown as a Maine Coon Mix based solely on her appearance. We rarely take in purebred animals, so virtually all of them are a mix of several breeds. Do not make an adoption decision based only on our breed designation, especially if you are concerned about allergies.
Meow-Meow is a Special Needs cat.
Meow-Meow would do best as an only child
Meow-Meow needs a home with no young children.