Callie is available for adoption in an offsite foster home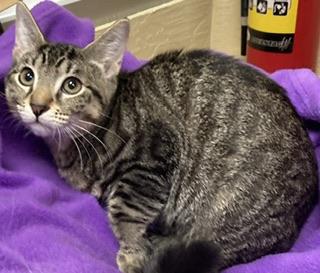 Callie is a beautiful little sweet tabby kitten tat is ready to wiggle into your heart!
This girl loves people, being around her humans, and loves to be held. She grew up with several other foster kittens in her foster home and got along great. Her favorite pass time when not cuddling is chasing balls, playing with her laser dot, and climbing up and down her tall cat tree.
Callie des not have exposure to dogs or children as of yet.
If you are ready for a spunky little kitty that will be a great addition to any family Callie is your girl!