Carlito is available for adoption in an offsite foster home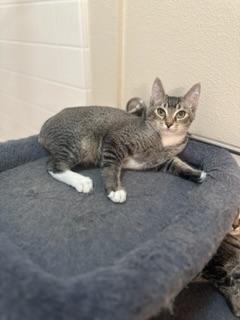 Male
Abyssinian / Tabby
white feet
5 months old
Say hello to Carlito!!!
He is a ball of energy and will play with toys or wrestle with his brothers until his heart is content. He is tough as nails, and not scared of anything.
Carlito loves to play with their huge assortment of toys and his foster family hears him going all day as he romps through the house. Him and his brothers are all amazing socially with each other, and they are the happiest bunch of love bugs. When Carlito is done playing he will curl up in his bed and take a nice nappy nap, and sometimes he will do that on your lap so get ready for snuggles.
Carlito has been around his liter mates, however he has not been around children as of yet so his reaction is unknown.
If you are looking for a spunky little ball of energy in your forever kitten then Carlito is your guy, and of course he would love to bring a brother with him if you have room!