Miss Halle is available for adoption at our Friant Rd Petco Adoption Center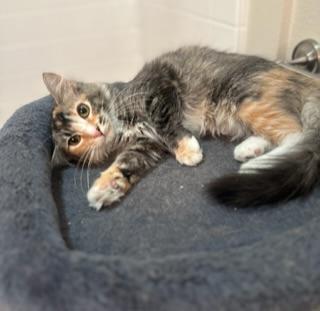 Female
Maine Coon Mix / Calico
5 months old
Oh Miss Halle you are stunning with your long haired calico coat that makes you a show stopper as you walk in the room!
Little Miss Halle may look shy at first when you meet her, but once you break out the brush she will melt into your lap and be the most loving thing ever. She's not the most playful kitty, but everyone loves to cuddle with her, and she loves it as well. Maybe she does not want to mess up her beautiful hair?
She does love to play when she is in the mood with her liter mates, and all of their assorted toys while romping around with them.
Miss Halle has not been exposed children so her reaction is unknown, however she has been in her foster home with her liter mates.
So if you are ready to welcome Miss Halle (and maybe one of her brothers), buy a brush on the way to adopt her and she will forever love you, that is the way to this little girls heart!
Please note:
Miss Halle is shown as a Maine Coon Mix / Calico / Calico based solely on her appearance. We rarely take in purebred animals, so virtually all of them are a mix of several breeds. Do not make an adoption decision based only on our breed designation, especially if you are concerned about allergies.
Miss Halle is ok with dogs