Isabella is available for adoption at our Friant Rd Petco Adoption Center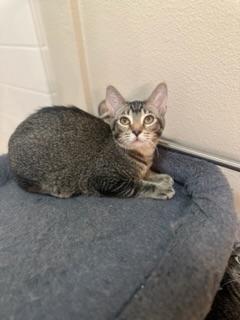 Female
Abyssinian / Tabby
4 months old
This is tiny tiny Isabella, she is the epitome of the saying "Small but Mighty"!
Isabella is the runt of her liter, however do not let that fool you she's got the biggest spark of them all.
She doesn't mind getting down and dirty with the boys and running around with them playing with their toys. But when she needs a break she's quick to cuddle with her sister, and is ready to take a nappy nap. It took a while to get her out of her shell but now she loves being held. Isabella needs a family that has patience to show her you will love on her, and she will show you the same affection back.
Isabella has not been exposed to children, however she has been around her liter mates and does with with other kittens (she would love to bring one with her).
So if you have room for a tiny little sweet girl in your life, Isabella is ready for you!