Chardonnay is available for adoption in an offsite foster home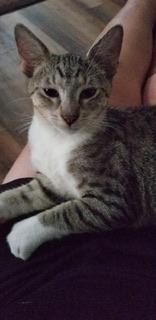 Male
Tabby
Brown
4 months old
Meet Chardonnay!

This little guy was born into a feral colony near Ashlan and Armstrong. He was starving and weak, but with the support of the Cat House and some loving care, 
he has turned into a fun, adorable companion that is ready to wiggle his way into your heart!  

In the morning Chardonnay peaks his head out from under the bed and races down the hall to breakfast, creating pitter patter sounds 
like a small herd. He loves meal time! He is a bit shy at first, but if you address him with soothing talk, especially telling him how handsome he is, 
he will allow you to pick him up and melt into your arms with a vigorous purr. 
Chardonnay knows he is a special kind of perrfect!

His white feet contrast with his gorgeous spots give him quite a striking fancy appearance.  
With a spotted coat he looks like an exotic Egyptian Mau, only Chardonnay is more handsome!

Chardonnay's reaction to dogs and children is unknown. 

This handsome, sweet and loving little guy is ready to live a new happy life with you and your family!