Cat 25121 (Wasabi)'s adoption is in progress!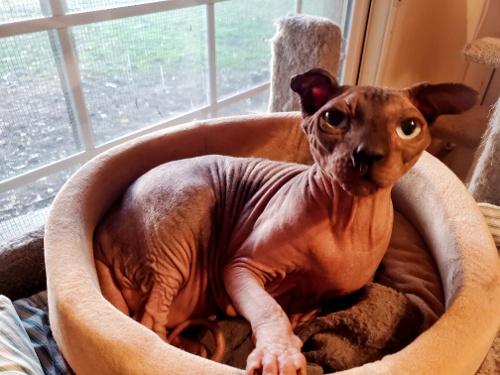 Meet Wasabi, our hairless dude! He is a super easy going fella and goes with the flow. He's very sweet, loving, full of energy, and enjoys being petted, oh and he's a talker! Not sure if he enjoys company of other cats or dogs. This handsome boy found his way to The Cat House on the Kings and he is a joy to have around. We learned he was a neutered male and has suffered trauma to his ears, permanently folded down due to cartilage issues. Regardless he deserves a loving caring home and we hope to find him that special place.
This breed is very high maintenance. Wasabi will require an experienced cat owner, see attached care link: http://www.gosphynx.com/sphynx-care
Please note:
The adoption fee for Cat 25121 (Wasabi) is $300 (not subject to any discount or special offer).