George is available for adoption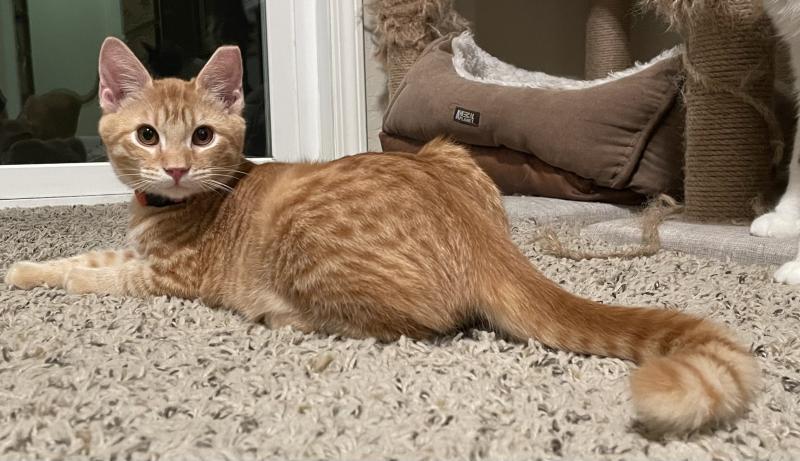 Male
Domestic Short Hair
Orange
6 months old
George is not in the care of The Cat House on the Kings and we cannot vouch for his personality or health status. Please call (559) 455-8425 with questions; do not contact The Cat House on the Kings about George!
George is the sweetest and friendliest kitten I've ever fostered (and I've fostered a lot!). He loves every person he meets, and is good with other cats and children. He is a typical active kitten who loves to play, and he often starts purring even before you pick him up. He likes to be in the same room as me, and often follows me around the house. He does meow occasionally, but he is not a big talker.
George followed me home one day from my mailbox back in early September. He had a pretty nasty respiratory infection, but he's been to the vet and hasn't had any issues since. He was TNR'd at some point before he found me, but he was just so friendly that I couldn't leave him outside. I've been fostering him since then, but I knew he couldn't stay with me permanently. I have 7 cats already, and it isn't fair to my 2 senior cats to bring in another kitten (they tolerate him, but they aren't happy about it).
Ideally, George will find an indoor only home. He would be fine with all children and other cats. He hasn't been around dogs while with me, but I imagine he'd do okay as long you took the time to introduce them properly. He is a typical active kitten, so he'll need play time, although he is perfectly content playing with some of my electronic wand toys. He likes attention, but he isn't forceful about demanding it.
As far as I know, he doesn't have any medical conditions. I am unsure if he had any vaccinations before he came to me, although since he was originally TNR'd, he may have had a rabies vaccine. I have not had him tested for FELV/FIV, but other than his upper respiratory infection, he has been perfectly healthy. He does have a tipped ear.
George is currently living in Fresno, CA 93737
Please note:
George is not a The Cat House on the Kings cat, so do not contact us about him. We cannot vouch for his personality or health status. For more information, or to meet George, please fill out an application form and his caregiver will contact you in 24-48 hours.