Patrick is available for adoption in an offsite foster home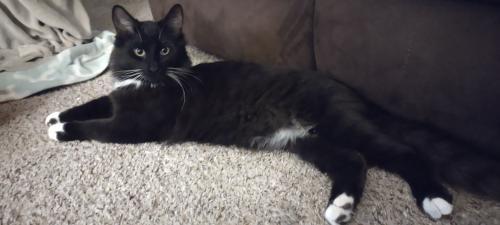 Male
Domestic Long Hair
Black and White
10 months old
Patrick is not in the care of The Cat House on the Kings and we cannot vouch for his personality or health status. Please call (559) 274-2577 with questions; do not contact The Cat House on the Kings about Patrick!
The sweetest and friendliest boy that you could imagine, especially when coming from the streets. Hes quite a talker and wants nothing but attention. Hes got a strong purr that starts as soon as he sees a person. He plays like a kitten with any toy he can find but melts when you pick him up. He does tend to get under foot when he wants to get picked up, wants to make sure you know hes there. He deserves a furever home that will give him a warm spot to sleep and finally enjoy life with people that can provide him with the love he craves. He has a pretty chill personality and gets along well with other cats and a medium size dog. He deserves a home especially for the holidays. He is truly a one of a kind cat.
He showed up in the front yard of a home where another cat was being cared for. He refused to leave and now lives in a garage where hes safe.
He is good with the younger child in the home who spends a lot of time playing with him. The resident cats get along with him after some adjustment and the dog in the home.
Patrick is currently living in Fresno, CA 93705
Please note:
Patrick is not a The Cat House on the Kings cat, so do not contact us about him. We cannot vouch for his personality or health status. For more information, or to meet Patrick, please fill out an application form and his caregiver will contact you in 24-48 hours.