Betty is available for adoption in an offsite foster home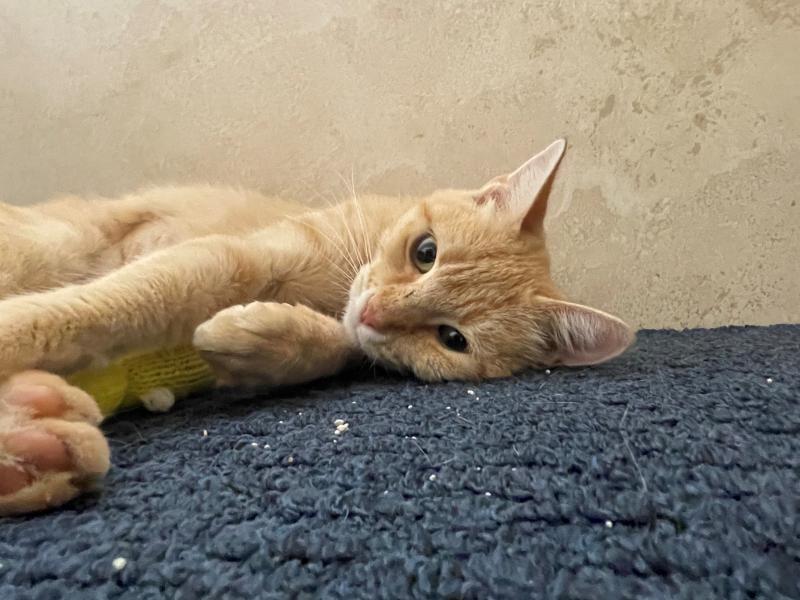 Female
Domestic Short Hair
Orange Orange
9 months old
Betty is not in the care of The Cat House on the Kings and we cannot vouch for her personality or health status. Please call (559) 246-6007 with questions; do not contact The Cat House on the Kings about Betty!
Betty is the funniest cat! She is very sweet and vocal. She will meow outside our front door until someone comes to feed her... so you will never forget to feed her. She craves to be petted and loved. She is a "Velcro" kitty when me or my kids are in the front yard... she just follows me around. I don't know a ton about cats, but she thinks she is "the boss" and the humans/kids who pick her up with confidence and no fear is who Betty would do best with. When I see her outside, she runs to me as soon as I call her name... kind of like a dog! She desperately wants to be inside our house, however, our large dog does not want a cat friend.
She is a very young community cat, came to me one day in September pregnant and hungry. I think she was 6-9 months old at the time... making her around 9-12 months old now. She has since been fixed and has Rabies Vaccine (I'm getting her chipped and fully vaccinated). She lived in my bathroom for 2 weeks to heal from the spay and she did wonderful! She used litterbox every time and was a wonderful houseguest. Betty has FIV but is fixed, do some research but FIV cats can live with non FIV cats just fine.
She needs an indoor only home, she does not like being outside. She likes the other cats in our neighborhood (we have seen them interact in a friendly manner on our Ring Cameras) so I think she would be fine with other cats. She has not been around dogs 1:1-- but does hiss at my big Pit Bull through the windows... but I don't blame her because my dog is pretty big!! She needs a confident cat owner, she will do best with experienced owners as she is pretty confident herself. The adults and kids who just pick her up with confidence she loves and respects. She gives love bites (not a lot but has done it a few times) so kids will need to know that is her way of showing affection. We really love her and know that her desire to be indoor with a family that loves her is important!!
No special needs. My kids and I wanted to adopt her but my husband is a weenie and is "scared" of cats (I should put him up for adoption!) Husband is afraid to have her in the house with our large pit bull. So, to keep the peace, she remains our loyal porch kitty... even though she tries to come inside every chance she gets!! Betty makes us laugh constantly and if you would like to meet her, we would love for you to come visit her!!!
Betty is currently living in Fresno, CA 93711
Please note:
Betty has tested positive for FIV.
Betty is not a The Cat House on the Kings cat, so do not contact us about her. We cannot vouch for her personality or health status. For more information, or to meet Betty, please fill out an application form and her caregiver will contact you in 24-48 hours.