Marmalady has been adopted!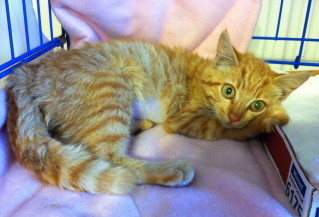 Marmalady was hit by a car and left for dead in an apartment complex parking lot before some Good Samaritans found her and brought her to The Cat House on the Kings. Her front leg was so badly injured that it needed to be amputated at the shoulder ~ but we expect that she will have no further medical problems as a result to this "rough start" in life.
Marmalady is a tripod ("tri-pawwed") 3-legged lovely lady with engaging crystal-clear green/gold eyes, silky-soft easy care fur, and the most wonderful orange tabby stripes. She is very people-oriented and friendly and has been an affectionate trooper throughout her recovery and rehabilitation period. Because of her limitations, she will (of course) need to be an indoor-only kitty cat!