Jacque **Cat Show** passed away 1/9/2016. RIP.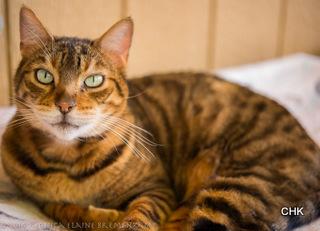 Jacque, the Bengal, has been with us for about a year. He is now 6 years old and is a Brown Spotted Florette. When he was adopted his owners declawed him not understanding the problems this might cause.

We all know that declaw can cause a cat to bite, hide, or have inappropriate urination issues. Jacque will spray if locked up in the house.

This cat does well w/ other cats, is very friendly and affectionate w/ humans, however, he would need a CATIO or cat proof fenced back yard. This will limit the chance of him spraying. He also needs a large home with either a safe cat enclosure or with cat-proof fencing which allows him the opportunity to safely go outside and explore/stretch his legs. (This helps reduce the likelihood of inappropriate behavior) Experienced cat owners preferred.
Please do not submit an application for Jacque unless you can offer him a CAT ENCLOSURE or CAT FENCING in your yard.
Will be featured at the TICA International CAT SHOW August 1-2, 2015 at the Holiday Inn & Conf Center 9000 W. Airport Dr. Visalia from 10am-4pm.