Pink *SD* has been adopted!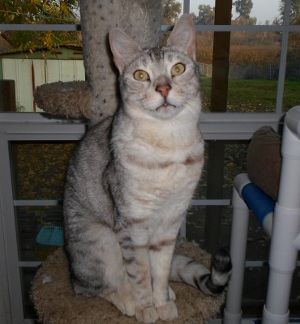 Pink is an F5 Savannah cat. She is 5 years old and is gorgeous, sweet, talkative, spoiled rotten princess!
She's a wonderful cat, she just needs a home where she can relax and be herself! She goes outside occasionally with a leash & harness. She has lived with other cats & a Rottie & generally gets along well wih dogs. She likes to curl up & cuddled on fuzzy blankets or under the covers. She loves watching out the window. Her favorite toys are fuzzy mice, catnip ball, the flimsy metal teaser wand, laser, your hand or feet moving under a blanket, & of course boxes. Her main dry food is Before Grain chicken flavor & she free feeds. She also eats canned food, the indoor friskies are her favorite or Whiskars fish & chicken packets. Her favorite treats are Greenies (ocean white fish, salmon, chicken) & temptations (every flavor but favorite is chicken). She also gets fed raw & cooked meat, chicken, turkey, & steak are her favorite but she eats hamburger, lunchmeat, etc. . She loves fresh water, especially from your cup or a slow running sink faucet or bathtub. She usually sleeps on the top level of the cat tree, the couch on her fuzzy blanket or between my legs in bed or by my side under the covers. She uses a covered litterbox with regular cat litter. She loves to be scratched, especially behind her ears & under her chin. If you try to brush her she doesn't really sit still but she loves headbutting the brush & getting a good scratch.
* Adoption fee: $150.00
* Pink would do best with a female owner (no males living in the home)
* Pink is fine with dogs, but there needs to be no other cats in the home.
* Savannah/Bengal experienced owner preferred.
This cat may be available at:
2260 Jimmy Durante Blvd
Del Mar, CA 92014
January 26-27