Harold has been adopted!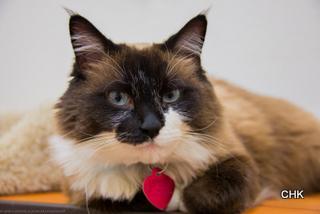 This beautiful boy was found in a nice neighborhood where he turned out to be a friendly, neutered male ~ but no collar or microchip was found. So, he's come to our Petco Adoption Center where he can find a wonderful home that will appreciate his gorgeous coat, mesmerizing blue eyes, and his amazing coloring and markings! We "think" he's been around dogs and is fine with them ~ depending on the dog, of course! He's playful, quick to purr, and a total loverboy.
SPECIAL NOTE: Harold is a "love biter" will do best in an EXPERIENCED CAT HOUSEHOLD, ONLY. When he is petted too much and gets overstimulated, he sometimes turns around and goes "chomp." He will do best in a cat-experienced household with owners who understand when to give him plenty of space.