Patsy has been adopted!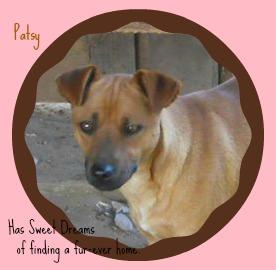 Female
Terrier
Brown
Patsy is not in the care of The Cat House on the Kings and we cannot vouch for her personality or health status. Please call (559) 638-8732 with questions; do not contact The Cat House on the Kings about Patsy!
Patsy was abandoned on a remote mountain road. With her was a pup we think is hers, and two Chihuahuas. It's a miracle they were discovered in time! We placed them in foster care where Patsy has been a very quiet and easy guest. She is a super smart, energetic girl who shows a great eagerness to please and is very receptive to training. We're not sure about her behavior with cats but feel her sweet friendliness would make her an excellent companion for any person or family. Patsy is a small to medium-sized girl around 25 pounds. She has been spayed, vaccinated, treated for fleas, and dewormed. She's all ready and now just waiting! Please consider putting an "I'm Adopted!" smile on this cute girl's face!